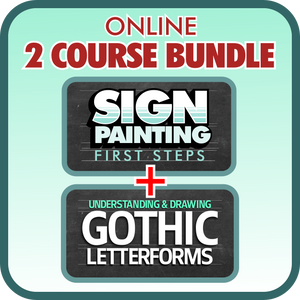 SIGN PAINTING 2 COURSE BUNDLE
Regular price $497.00 $247.00 Sale
SIGN PAINTING FIRST STEPS for beginners. Regular Price $49.
Sign Painting First Steps is designed to Jump Start Your Signpainting Journey by taking all the confusion out of knowing what tools and materials you need to get started and how to use them, providing you with knowledge that can often take years to acquire. Includes a step by step demonstration of how to make "The Rabid Badger Bar Tavern" sign.

UNDERSTANDING & DRAWING GOTHIC LETTERFORMS.  Regular Price $497
 In this comprehensive online course you'll learn everything you need to know to draw Professional Quality Lettering, from understanding the fundamental rules of the Roman Alphabet to designing your own typefaces. Includes a practical project where you'll follow John King's real time detailed demonstrations of how to correctly draw every capital letter and numeral of a sans serif typeface.
On Sale. SAVE $250
Save with this 2 Course Bundle. You get "Understanding & Drawing Gothic Letterforms" and "Sign Painting First Steps".
Becoming familiar with the Tools and Materials of the Sign Painting trade along with how to draw Professional Quality Lettering are two of the first things you need to learn as a Signwriter. This course bundle is designed to help you do just that with our beginners course Sign Painting First Steps included for FREE when purchased withn Understanding and Drawing Gothic Letterforms. See individual course pages for full details on each.
PLEASE READ BELOW NOTES BEFORE PURCHASE:
This course bundle is hosted on the LetterArt Academy website.

Once purchased you will see a download link after checkout to download your Course Companion Booklet for Understanding & Drawing Gothic Letterforms. A link for the booklet will also be automatically emailed to you. This booklet is also included within the course curriculum.
Your login credentials for LetterArt Academy will be emailed to you within 24hrs of purchase. Please be aware this email will be sent manually by John and is not instant.
Once you have your login credentials you can begin the course.