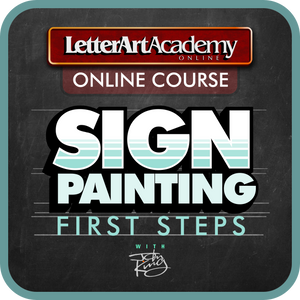 SIGN PAINTING FIRST STEPS
Regular price $49.00 Sale
If you are interested in learning Traditional Signwriting but not sure where to start then this economically priced course is designed for you.
As with any new undertaking it can be overwhelming trying to figure out what items you need to purchase in order to get started without wasting your time searching endlessly through Youtube videos or spending your hard earned money on the wrong tools and materials.
Sign Painting First Steps is designed to Jump Start Your Signpainting Journey by taking all the confusion out of knowing what tools and materials you need to get started and how to use them, providing you with knowledge that can often take years to acquire.
In Part One of this course you will learn all about the industry standard Tools and Materials of the Sign Painting Trade and their various applications, from Paints & Brushes to Layout Tools and Substrates. 
Then in Part Two you will be shown step by step how to make a high quality MDO plywood sign all the way from panel preparation and weatherproofing to applying the finishing touches as John King demonstrates each process along the way.
Course contains 44 Video Lessons totaling 5 hours with Quizzes. Lifetime Access once enrolled. Do at your own pace.
PLEASE READ BELOW NOTES BEFORE PURCHASE:
This course is hosted on the LetterArt Academy website.

Once purchased you will see a download link after checkout to download your Enrollment Acknowlegment PDF. A link will also be automatically emailed to you.

You will then be emailed your login credentials for LetterArt Academy within 24hrs of purchase. Please be aware this email will be sent manually by John and is not instant.
Once you have your login credentials you can begin the course.