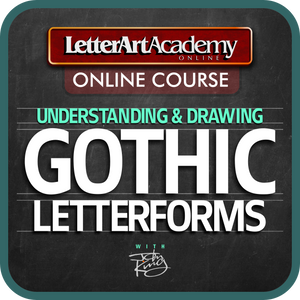 UNDERSTANDING & DRAWING GOTHIC LETTERFORMS
Regular price $497.00 $237.00 Sale
 COURSE OVERVIEW
 LESSON SNIPPETS
In this comprehensive online course you'll learn everything you need to know to be able to draw Professional Quality Lettering.
John King takes you through an intensive study of a Sans Serif Gothic Alphabet unlocking all the secrets of letter construction based on the foundational rules of the original Roman Alphabet and how they apply to all good modern typefaces.
You'll create your own hand drawn alphabet by following real time demonstrations of how to draw each letter and numeral, then be shown how to apply the principals you've learned to create countless variations of the alphabet and design your own custom typefaces.
This course is a must for anyone who works in the typography industry from Traditional Sign Painters to Graphic Designers and Lettering Artists.
Course contains 50 Video Lessons totaling 11 hours with Quizzes and a Completion Certificate. Lifetime Access once enrolled. Do at your own pace.
PLEASE READ BELOW NOTES BEFORE PURCHASE:
This course is hosted on the LetterArt Academy website.

Once purchased you will see a download link after checkout to download your Course Companion Booklet. A link will also be automatically emailed to you. This booklet is also included within the course curriculum.
You will then be emailed your login credentials for LetterArt Academy within 24hrs of purchase. Please be aware this email will be sent manually by John and is not instant.
Once you have your login credentials you can begin the course.