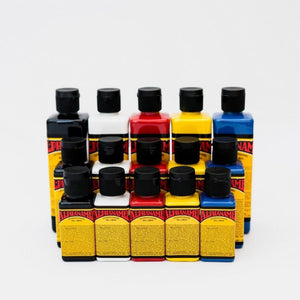 Alphanamel PRIMARY PACK. 16oz, 8oz, 4oz, 2oz
Regular price $0.00 $147.95 Sale
SELECT SIZE ABOVE ^^
Get your basics covered with this Alphanamel Primary Set and save!
This 5 Color set is available in 2oz, 4oz, 8oz & 16oz Bottles and contains McKeag's Black, Alpha White, Alpha Red, Alpha Blue, and Alpha Yellow
Alphanamel Lettering Enamel is the most durable, opaque, single stroke enamel on the market. It has been scientifically formulated to meet the needs of today's professional Pinstripers and Sign Painters. The single stroke coverage allows for faster drying times, a higher gloss finish, elimination of brush marks and increased profitability. The paint is shipped in metal cans. Plastic bottles with rattlers are included for your use.
Space Saving Square Bottles available in 16oz, 8oz, 4oz and 2oz.
16oz = 1 Pint.  8oz = 1/2 Pint.  4oz = 1/4 Pint.  2oz = 1/8 Pint.
METRIC CONVERSION: 1 Quart = 946ml. 1 Pint = 473ml.
SHIPPING: Take advantage of our FLAT RATE SHIPPING. Order as much as you like for the One Low Shipping Charge!
*All Paint Products are Shipped "GROUND".
  !! PLEASE NOTE !!

   PAINT PRODUCTS

CANNOT

BE SHIPPED TO ADDRESSES OUTSIDE OF U.S. CONTINENTAL STATES.